By IceBike.org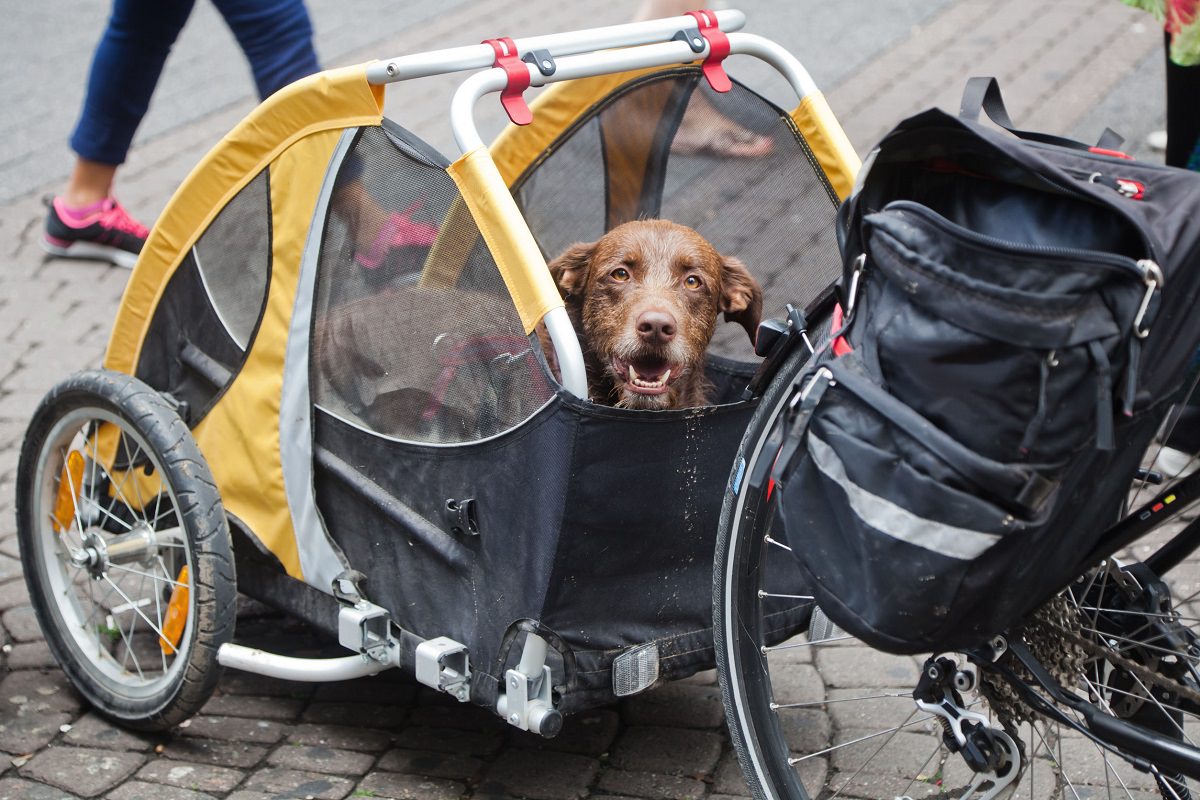 Trailers for dogs are exactly what they sound like. They are trailers, for dogs. Ostensibly these are primarily for transporting the medium to larger size of dog, generally above 20-25 lbs, or for moving more than 1 dog at a time, but that doesn't mean you can't get one for smaller dogs. It just means they'll have that little bit more room to stretch out in.
But choosing a trailer is a little more involved than choosing a basket. So here's some handy pointers and things to look out for when choosing a trailer:
Make sure you get the right size. It's just like choosing a basket. Get the one that's right for your dog. There are a variety of different sizes of trailer out there, so do a little research and make an informed choice.
Make sure you get a trailer that has a hitch that is easy to get on and off, that's also easy to do so when the dog is in the trailer. Also make sure it feels secure. It shouldn't feel shoogly, or loose.The last thing you want is to look over your shoulder when you corner and see your dog and your trailer going straight on.
Make sure there is adequate weather protection. Dogs will get along just fine usually in the rain and the cold when they can run and keep warm naturally, but it's a different story when they are just sitting there in the middle of the trailer.Also remember, in a trailer a dog can't go lie in the shade if it gets too hot, so make sure it has some sort of sun protection element to it as well.
Ensure the trailer is balanced. The more balanced the bike, the easier it will be to ride, and the less chance there will be of the trailer tipping and you ending in the grass verge.
Staying with balance, what is the trailer like when it corners or you pull the brakes. Does it impede your normal ability to turn, and how does it affect your stopping distance? This might not affect you, but one thing I noticed when shopping for my trailer was that most trailers have a top speed advisory given by the manufacturer.
Are there sufficient reflectors and high visibility material on the trailer? Having a dog trailer will block your own bikes reflectors, so it's good to check.
Are you experienced pulling trailers? If not, make sure you get used to pulling the trailer before you put your dog in it. You don't want to appear uneasy to your 4 legged best friend.
Give your dog time to get used to its new mobile home. Like with a basket, don't just throw the dog in and set off. Panicked dogs are dangerous in a bike trailer if they try to get out. The bigger the dog, the greater the danger.
Are the wheels removable and will the trailer fold away and collapse when not in use? Dog trailers can be used as crates, or handy holiday homes if on vacation.
Does the trailer come with its own harness and hook on points for your own harness? Again, don't use an ordinary leash and collar combination. If there is an accident and the dog falls out, the last thing you want is his legs being tangled up by a long leash at speed…
Is the padding on the floor going to be comfy enough on its own or do you need to get an extra layer for your pooch?
Do you need to add your own plywood floor to the base of the trailer? How heavy is your dog?
Finally, and after safety perhaps the most important! How easy will the trailer be to clean out and keep smelling lovely?The floor/mat should be held in place by something like Velcro or ties that are easily removable after a ride and walk in the mud, and conversely also seem easy to clean. You don't want the floor to be slipping and sliding all over the place. Your dog will not like it.